General Info about Time4learning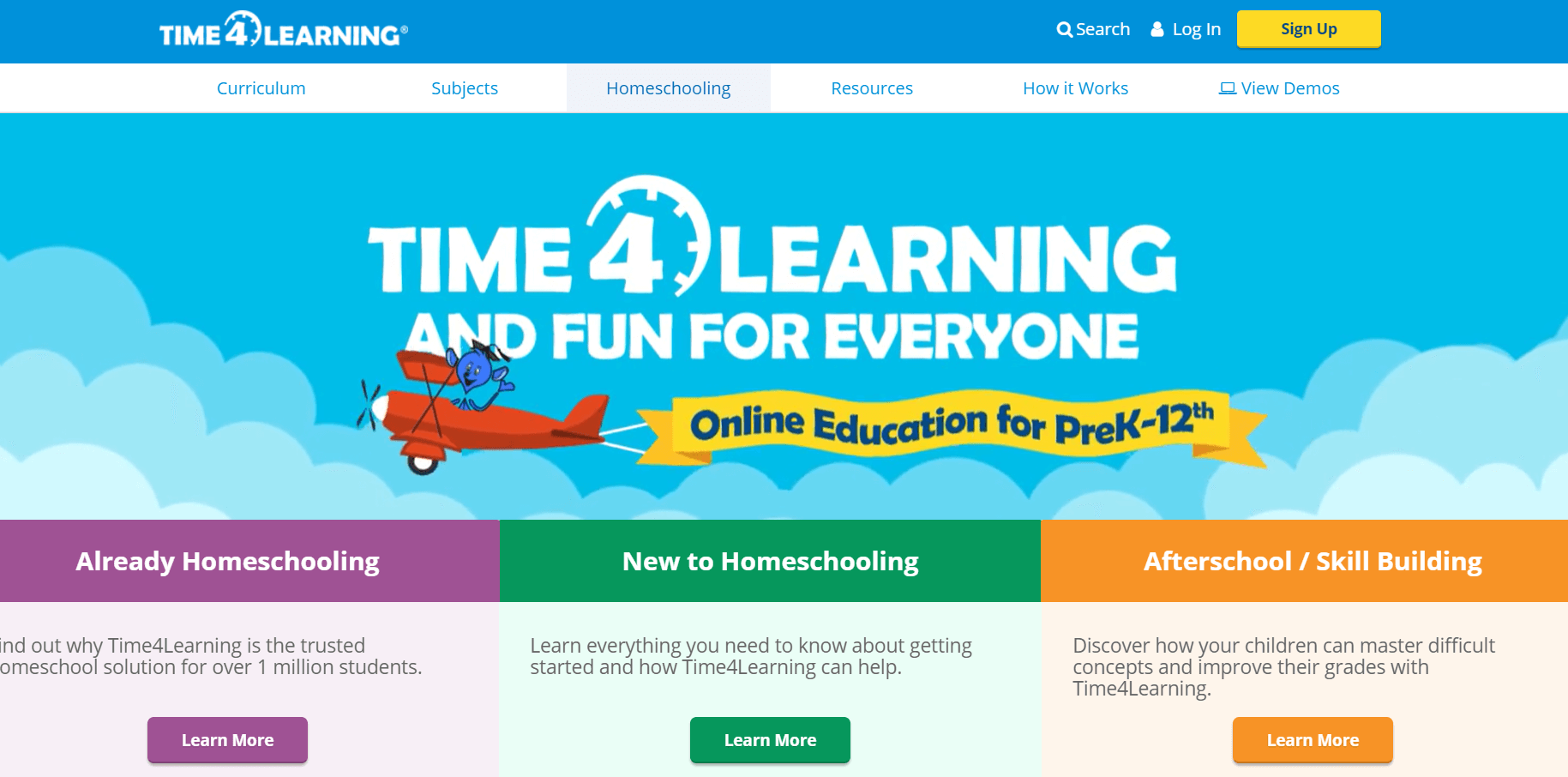 Benefits
– special offers and bonuses
– user-friendly navigation of a website
– good customer support
Total

67

Professionalism

52

Quality

39

Functionality

68

Reliability
Pricing
Subscription system
Visit site
May, 2021 Last Update
Time4Learning.com is a platform created for pre-kindergarten till high school homeschoolers. Learners need to make payments for a membership per month. Time4Learning is not a school. Therefore they do not give report cards or diplomas.
Overview of Time4learning
You can easily find some time4learning reviews online. Still, they focus on particular moments and cover only several features of time4learning. It can be insufficient if you are going to consider homeschool with the help of time4learning. We are going to fix it. Our time4learning review includes all things you need to know before deciding to choose the time4learning program.
Information about Teachers
Time4Learning is an online curriculum with the help of which homeschool parents can teach their children. Therefore, parents take full responsibility as a teacher. Many learners can work through the Time4Learning program by themselves. Still, there are learners who need help from parents.
The Time4Learning program is totally controlled by a student. Because of this, learners can proceed through the course as quickly or as slow as they want, and they won't fall behind the program. Nevertheless, if the homeschool parent would choose for the learner to finish a course during a semester or full school year, they can assign a particular number of everyday lessons. Therefore, homeschooling parents can spend some time planning lessons for the whole year.
Quality of Program
Time4Learning proposes study plans for the next academic levels:
Preschool;
Elementary;
Middle school;
High school.
Time4Learning covers such subjects as mathematics, science, social studies, and language arts.
As the curriculum of Time4Learning is not accredited, it is hard to speak about the quality of education. Note that Time4Learning does not give diplomas; therefore, there is a need for parents to find educational institutions where homeschoolers can enter. Moreover, parents will need to accept complete responsibility for graduation.
On the website of Time4Learning, there is information that programs of this company are broadly utilized in schools in the USA. Still, no one can guarantee that this platform provides valid lessons.
Still, many clients are satisfied with the study materials. The platform makes an entertaining aspect of education. It organizes a studying process in a humorous and fun way. It enables learners to learn new information easier.
But let's do not forget that Time4Learning is not a school. It is hard to cover a full material for every subject. Therefore, video lessons and printable sheets are simplified.
Information about Pricing
Below is important information about the prices of the Time4Learning program, are there any discounts, and what are ways of making payments.
Prices
Among other programs for homeschoolers, Time4Learning proposes a relatively low monthly price. There is no contact, so parents can begin a program or cancel anytime they desire. The company proposes a monthly subscription:
$19.95 for PreK-8th programs. You need to pay $14.95 for every learner you add afterward.
$30 high school learners need to pay.
Prices for additional courses:
$59.95 Time4Languages course (six months);
$99.95 Time4Writing course (eight weeks).
Methods of Payment
To make your payment, you can utilize debit and credit cards. During registration, you can understand it is impossible to utilize PayPal in order to carry out a transaction. Still, PayPal works on the platform; simply reach the support agent and make your purchase. You can rely on a company regarding digital security. Time4Learning has the GeoTrust certificate that guarantees secure transactions. Moreover, the Time4Learning website uses 256-byte encryption.
Special Offers
Time4Learning proposes a referral program. It means that clients can get $25 on an account or receive a month of services for free. If you want to get a discount, all you need to do is to share a referral link of the Time4Learning company. From time to time, a company proposes various discounts to existing clients. You need to follow a website, where all new discounts appear.
Functionality
This section covers information about the functionality of a company. Is it easy to use a website, can customer support help you, and are there some extra features? All answers you can find below.
Design of a Time4Learning Website
The website has a pretty good design. It is not overloaded with unnecessary information. In case you are a newcomer in home education, the Time4Learning company can explain the complete process, including all details.
Usability of a Website
The navigation of a website is likewise user-friendly. It contains main and detailed information about prices, discounts, the curriculum, FAQ, subjects, and the How It Works section.
Ordering a Program
As we have already stated, Time4Learning provides a monthly subscription for clients. You need to open the Time4Learning.com website and choose the sign-up button. You will move to the registration menu; it needs to be filled by parents. Every parent needs to enter email details, full name and create a password. Besides, it is obligatory to specify a phone number. Then add a number of learners and choose "Continue." Then, parents need to make a payment, and that is all.
Customer Support at Time4Learning
If you have questions, you can first view the FAQ section on the website. It is relatively informative. If you still have some issues., you can reach customer staff via live chat. Still, it works not every time you go on the website.
Also, you can use email and phone to reach a client support agent. Unfortunately, you will get an answer via email only within 24 hours.
Timely Delivery
After you register on a platform, you can receive immediate access and use the materials. Note there are no deliverable services. You also do not need to worry about deadlines, as there are no writers who complete essays. You can begin a program when you want. All requests are worked on automatically. If you did not receive an email in your mailbox, check your spam folder.
Additional Features
Time4Learning proposes premium electives such as Time4Writing and Time4Languages.
Additional course – Time4Writing, directs to improve the learner's writing abilities and skills. If you want to move to this course and receive some additional advice on your papers, articles, you will not discover a lot of valuable info.
Note that the additional Time4Writing course does not vary from academic writing lessons. It just provides the basics of paper writing and the tasks to perform. A client will not receive any needed info that will assist in creating an excellent essay. It is a better idea to search for articles with additional tips for essays on the Internet for free as the Time4Learning course is fee-based.
With the help of another additional course – Time4Languages, you can study foreign languages. This course is attached to the main curriculum. It involves materials and studying activities for languages: English (American), Spanish (Latin American), Chinese (Mandarin), Latin, French, German, Italian, Japanese, Russian, or Hebrew.
Reliability
This section includes info about the reputation of a company and is there some warranties.
Reputation of Time4Learning
The company does not have signs of fraudulent behavior. It has an average reputation among clients. Many parents value this company as their prices are lower because time4learning is not accredited.
Warranties
You can get a refund in case you register on a website for the first time. Note that Time4Learning does not propose a free trial. You can get complete compensation for 14 days. You need to cancel a subscription during this time period. Time4Writing and Time4Languages courses apply to this requirement too.
Services
Time4Learning is an educational program that helps to satisfy studying needs. The educational process is easy and has the following steps:
Learners watch video lessons;
Learners complete tasks;
Learners get marks.
Learners can review lessons as needed times as they want to explore the theme completely. After students complete the theoretical part, they move to practice. Learners can anchor lore with the help of interactive tasks and quizzes for which they get marks.
Parents can simply control the studying progress of kids with the Time4Learning reports and statistics.
On the one hand, Time4Learning makes a process of home education interesting and entertaining, but it cannot substitute traditional studying. As we stated earlier, it has risks regarding future education.
As kids cannot objectively assess educational demands, their parents often determine what disciplines and courses are the most needed for kids. Parents can not completely know the teaching techniques, which leads to a restricted studying potential of kids.
Another useful service is a forum created for parents on the Time4Learning platform. The forum is friendly and kind-hearted enough. Parents create discussions to share their experience of the Time4Learning using and home learning practice in general.
Time4Learning likewise provides detailed guides on teaching children of various ages for parents. Every manual involves pieces of advice about what to expect from a kid, what curriculum parents need to select for a child, and problems a kid can face and overcome during the studying process.
Time for a Conclusion
Despite Time4Learning has some benefits, it is not for everyone. Time4Learning is not an alternative for university and college learners. Besides, the platform does not have any importance to learners who study in onsite institutions.
It is your choice to use this platform or not. Be ready to use additional resources for a complete program as the Time4Learning curriculum is simplified.
You Can Always Select Other Company
If you are dissatisfied with Time4Learning, you can get a full refund. Just cancel your subscription and start finding other companies.
If you decide to study at home, think several times before selecting Time4Learning as its materials are not accredited. It means it can be troublesome to receive a diploma afterward. You can pay more for a curriculum from other companies whose materials are accredited.
Anyway, it is your decision, and all we can is to wish you good luck with your studies.
Hot Deals from Top rated Writing Services